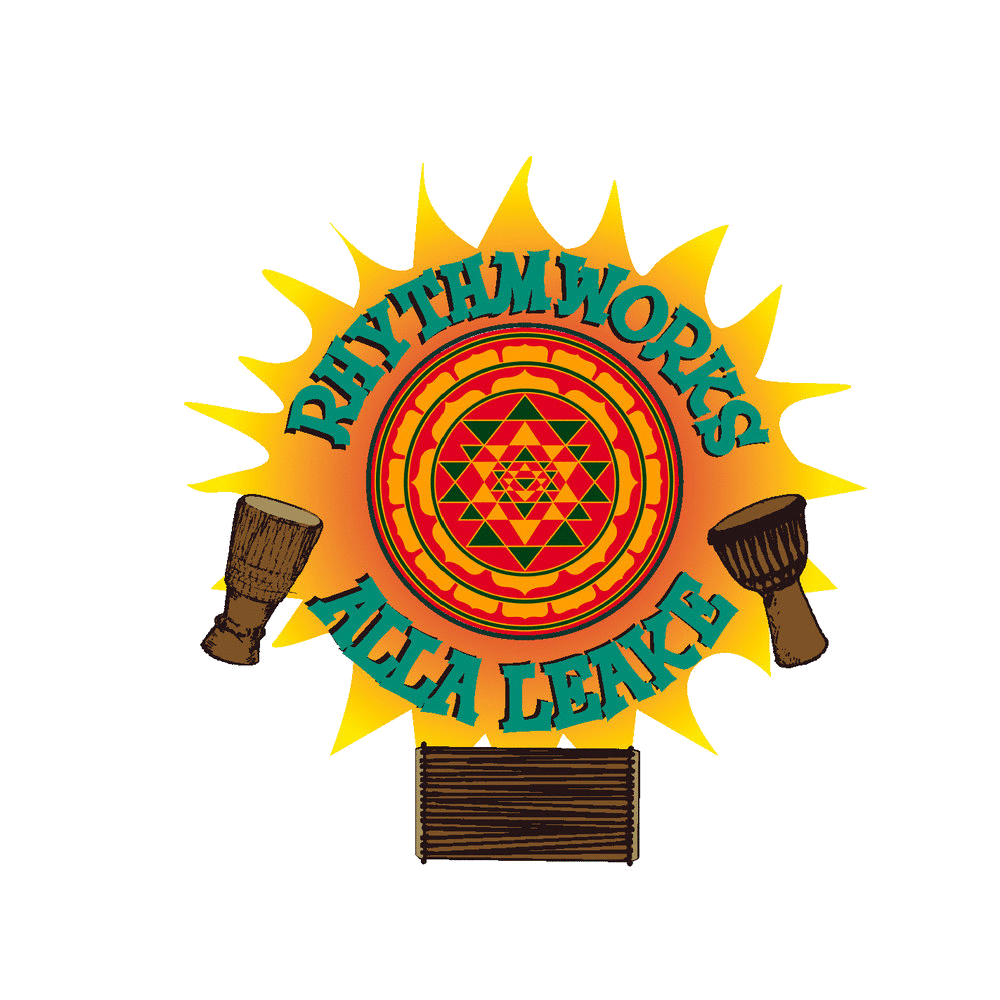 RhythmWorkshops for

Schools & Colleges
In West Africa, where we have learned how to play and teach the Djembe - it is a pre-requisite to apply oneself when learning and practising the cultural arts.
Mike McElya and Graeme Goodwin, bring authentic Djembe RhythmWorkshops to schools with an emphasis of learning the real Roots of popular music through the Djembe and Doun Doun drums.
The Djembe and Doun Doun drums form part of the present and original West African percussion musical ensembles and with the spreading of African peoples across the world, went with them the Music and Art forms. In fact, most forms of 'Popular music' including Jazz, Blues, Rock and Pop can trace their origins to West African Percussion and it is for this reason that West Afican Drumming is a part of the National Curriculum for Primary and Secondary School education.
Our workshops for Schools and Colleges aim to inform and demonstrate, through 'hands on' experience in workshops, the essence of Roots music with the 3 core elemens - T E M P O - R H Y T H M - M E L O D I E.
We achieve this by teaching children using the Djembe Drum and it's many poly-rhythmical parts and accompanied by the Doun Doun drums which are actually the origin of the Drum Kit.
Children will learn the following in our RhythmWorkshops -
How Music in Africa is an Essential part of the Culture - and what this means?
What the Caste System is and it's relevancy to the Djembe and African Culture
Importance of a Cheerful Joyus Attitude & the Effect on the Music
Why Being Kind to others...is the only way!
Why Listening and Paying Attention is at least respectful...
How 'getting out of your head' and into your Heart is the only way in music (and drumming! :-)
Importance of Correct Body Posture and a Relaxed Body
The A B C - the Primary Tones played on the Djembe
The Importance of consistent Tempo in Music
The Importance of Applying Oneself
Many multi part rhythms in 4/4 and 6/8 Timing
Introduction & Variation Patterns
Lots of other Cultural Info about West Africa
We have successfully provided Drumming and African Arts workshops in schools for over 15 Years and we always endeavour to provide authenticity especially when it comes to African Music and tradition.
Our family in The Gambia, The Camara family, are from the Sousou tribe from Guinea Conakary and are a Griot Family (Holders of Music Traditions) for the Djembe, Doun Doun and Dance.
For 15 years RhythmWorks Alla Ley'ake and Mike McElya (formally The Sunshine Drumming Company) have delivered Djembe instruction in TECHNIQUE and RHYTHM to many social groups, Corporate Teams and Schools and Colleges.
​
If you are a Primary School based in the UK please visit rhythmworksprimaryschools.co.uk for more info and booking Half or Full African Drumming Days or Individual RhythmWorkshops.
If you would like to Book Me for a RhythmWorkshop or Cultural Arts weeks please Call or Text me on 07377 669 134 or alternatively email me on graemegoodwin02@gmail.com